Summary
Overcoming rain on your daily ride
Cyclists most often cite weather conditions as a major obstacle to using their bike every day. A survey of 3,945 French people in October and November 2012 carried out in France at the request of the French Ministry of Ecology and a French urban and rural cycling club indicates that bad weather conditions—such as rain, cold, and snow—are cited by 58% of respondents as the main reason for not cycling.
Occasional users are even 68.9% more likely to not go out in the rain or cold. A more recent study published in 2018 by Elsevier Ltd—conducted internationally with 1,064 urban cyclists from 20 countries in Europe, Latin America, and North America—indicates that weather conditions and risk of accidents are the two main reasons for not cycling.
Ironically, Northern European countries with the harshest weather conditions are also the countries where cycling for everyday travel is most widespread. This is proof that rain is not incompatible with cycling. All you need is just a few tips, apply best practices, and get the right rain gear. Norwegians have a very fitting expression: There is no bad weather, just bad equipment!
Best practices to cycle safely in the rain
The first thing to do is to scout out the many slippery areas that can be found in the city—tram tracks, manholes, or painted strips on the roadway—before your ride. Likewise, you may fondly remember riding your childhood bike through puddles and piles of leaves, but that must be a thing of the past. In rainy weather, apart from how slippery those spots are, you never know what's hiding underneath!
The second element deals with braking. When it rains and the road is wet, braking distance is doubled. You have to brake gently and smoothly and of course use brake pads in good condition. Another tip is lowering your tyre pressure a little in case of heavy rain. When you've finished your ride, make sure your tyres are clean because once they get wet, they tend to pick up anything that's lying on the road!
Once the rain stops, make sure you maintain your bike, paying close attention to the chain, which should be cleaned and then lubricated to prevent accelerated rusting. Finally, and we can't stress this enough, ride responsibly and take special care in wet weather, especially by moderating your speed.
How to choose the best equipment when you need to ride in the rain?
Unless you have a change of clothes—and a place to change once you arrive—having the right equipment is a basic necessity when you cycle in the rain, especially if you are commuting. There are a plethora of solutions to choose from. For the upper part of the body: raincoats, parkas, bike ponchos, rain capes, bike umbrellas, bike rain jackets, and more. Whatever option you choose, it is important that you don't feel trapped inside your jacket or rain cape and that you retain full freedom of movement. Don't forget to protect your face because no one enjoys riding a bike with rain hitting their face! This only becomes truer if you wear corrective glasses. No one enjoys foggy glasses! Finally, if you want to keep your hair dry, think about protecting your head by using a cycling jacket with a waterproof hood or helmet cover.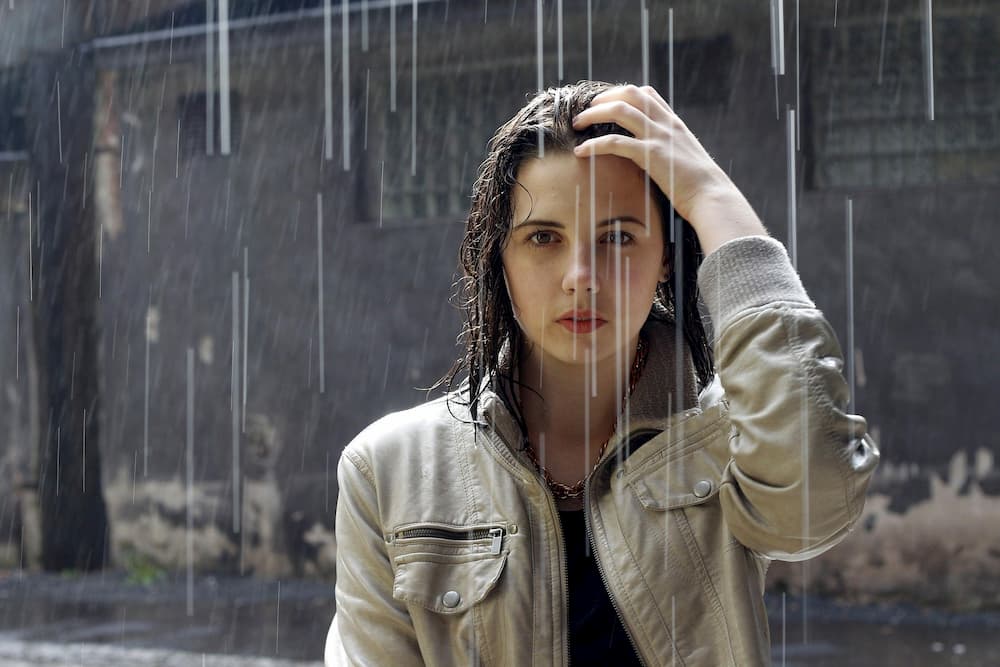 For the lower part of your body, it is also important to protect against road splashes. Your mudguard is your first protector against a wet mess. There should be one on your front wheel to prevent water being thrown on your lower legs and another on the rear wheel to prevent the wet line on your back. Fortunately for you, most urban and all-terrain bikes are already equipped with both mudguards. If not, buy them. They are easy to install and most don't require special tools. If you have light rain gear, you will need to cover your legs and feet with waterproof pants or gaiters. Some gaiters also cover the feet, but simple bicycle shoe covers, shoe protectors, or bicycle overshoes can also do the trick. Otherwise, as commuters know, it's always better to bring an extra pair of dry socks!
Your hands will thank you for using handlebar sleeves, which remain much more effective than gloves, and look great, too! Spare your colleagues the embarrassment of seeing your wet hindquarters by using a saddle protector. They'll thank you for it! If you forget your saddle cover, just install a plastic bag on the saddle—a simple solution that has saved more than one cyclist!
Rainjoy is the sole author of these lines. Don't miss the Bub-up®, a rain protection bubble for everyday cycling. It opens instantly, fits on all bikes, and can be stored and transported easily. Once it is open over your bike, Bub-up® is a rain canopy or bicycle roof that keeps you dry in bad weather, from light rain to a heavy downpour. It can be considered a modern-day version of the umbrella, specifically designed for bicycles and cyclists who use their bikes every day to commute or travel. It is the perfect combination of an umbrella, windscreen, and rain jacket, resulting in less perspiration than with a rain jacket. Bub-up® is an alternative or complementary solution to raingear because it offers integral protection against rain and cold over more than 80% of the body surface. With Bub-up®, not only will you love riding your bike in the rain, but you'll also love the freedom of cycling in your regular clothes, without needing waterproof clothing and without getting wet!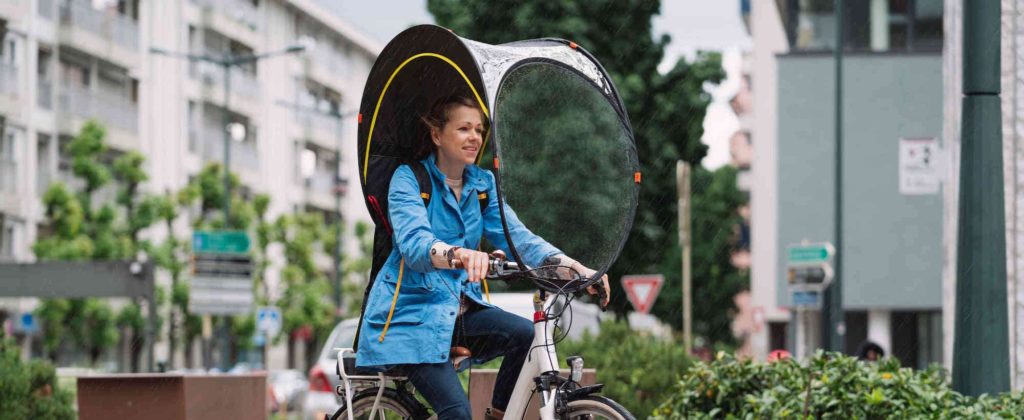 Visibility is also essential on rainy or cloudy days, especially if there is fog. Making sure you have enough lights and reflectors to see and be seen can save your life. In addition to Bub-up®, Bub-up® Light is the essential accessory for riding safely at night. Bub-up® Light is a red, light-emitting diode, or LED, that is quick and easy to install on one of the two dedicated slots on your Bub-up®. More information on Bub-up® and Bub-up® Light www.rainjoy.eu .
Contrary to popular belief, e-bikes, or electrically powered bicycles, are entirely compatible with rainy weather. The only precaution you must take is removing the battery if you park your bike in the rain for long periods.
Rain! Love it? Or love it not!
Why ride a bike? Because it's fast, economical, and good for your health and the environment. Plus, it's great fun and is known to boost spirits. We even take it one step further and say that cycling is fun even in the rain—provided you have the right equipment. Start the experience by riding in a soft drizzle, letting the water caress your face. You'll love it!
And if you really hate riding in the rain, several new smartphone apps have been developed to help you avoid the rain. DryBike helps you manage your daily commute and provides you with the weather forecast to avoid bad weather on your routes. ainToday and Rain Alert provide real-time rainfall alerts as well as how much rain is expected. Of course, the only fool proof way to avoid the rain is to stay inside, but we know you hate that option!