Everything you've ever wanted to know about Bub-up® and how it's used
What about windage?
The shape and structure of Bub-up® were designed to reduce wind resistance.
To ensure better aerodynamics and to prevent a parachute effect, the back end of Bub-up® is narrower than the front. The flexible frame of Bub-up® does not change shape under 35 km/h (riding speed).
Beyond that, or if there are strong winds, Bub-up® will bend to the wind and gradually allow the wind to slide along its surface, in turn avoiding the parachute effect.
If this happens, just lean forward to bring Bub-up® back to its original shape.
However, Bub-up® is not intended for use in high winds Cyclists do not feel wind resistance up to 15 km/h (riding speed).
Beyond that, they gradually start to feel some resistance depending on their speed, which is, of course, limited when riding an e-bike.
What about visibility through the windscreen?
The large, porthole-shaped windscreen at the front of Bub-up® offers a wide field of vision with little change in visibility.
Indeed, the vast majority of riders say that visibility is much higher through a Bub-up® than having rain fall directly onto their face or eyeglasses!
Water droplets beading on the windscreen aren't really a nuisance either.
However, special care must be taken at night, because car headlights coming opposite can cause glaring from water on the screen.
Finally, Bub-up® is not adapted to snowy conditions.
How much does it protect against rain and cold?
With integral protection from head to thigh, Bub-up® protects a rider against the rain and cold over more than 80% of their body.
Once your bike is moving, most rain falling, even from the side, is stopped by the windscreen.
However, depending on how strong side winds are, your shoulders and arms may be more or less exposed.
What about safety?
Safety issues have been a main component in Bub-up®'s design and development.
Indeed, if the cyclist is in an accident, the product has self-releasing safety buckles built into the carrying system that automatically release if traction is strong.
Moreover, because of its flexible frame and optimised shape, and even though it is attached directly to the handlebars, Bub-up® does not interfere with bike operation.
Finally, because the Bub-up® takes up a larger volume than a cyclist alone, riders are more visible to other vehicles on the road.
More information about Bub-up®
Can it be installed on all bikes?
Bub-up® is compatible with all electric and traditional bicycles. For more comfort, also make sure that the saddle is not positioned higher than the handlebars.
However, bikes with drop handlebars should be avoided as they require a round or reclining position that is not very compatible with Bub-up®. The good news is that using Bub-up® is possible with a front basket.
Can my child use it on their bike?
Bub-up® is not intended for use by children. Bub-up® is not recommended for use with a child seat.
For use with a child, use the Bub-up Kids!
However, you can use Bub-up® with a cargo bike equipped with a front box with built-in hood, and this will protect both the rider and the passengers in the cargo box!
How can I dry it after use?
Just like an umbrella, Bub-up® should be dried open.
Simply lay it on the floor in a clean and dry location or place it on a chair or small table.
If your bike storage area is secure, you can also dry Bub-up® directly on your bike by placing it on your bike in "break" mode.
You can also place Bub-up® in a bathtub or shower to dry off.
Watch our demos and video tutorials
to see Bub-up® in action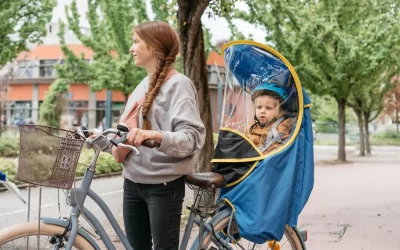 Bike Rain Protection - Table of content The rain, a major obstacle when transporting children by bikeThe existing equipment to protect children against the rain when riding a bikeRainjoy's solution to transport children while keeping them dry on a bike: the Bub-up...
read more